How to get started with Intelligent Golf
To download a more detailed copy of the instructions below please click here.
This guide will take you through how to get setup on Intelligent Golf and install the Member App.
You will first need to login to Intelligent Golf via a web browser on a PC, laptop or tablet. Then you should download the app onto your mobile device and link the two together – this is called 'pairing'.
Step One: Login to Intelligent Golf
Go to the Lutterworth Golf Club web page – https://www.lutterworthgc.co.uk and click on the Members Login at the top right of the screen.
Login – this will be your membership number
PIN Number - this will be the number emailed or given to you
If you need a reminder of what your login details are please email the office on manager@lutterworthgc.co.uk
Step Two: The QR Code
The QR code will synchronise your device to your IG account. This is done by taking a photo of the QR code when in the app (see Step Three to help you download the app).
Go to MyGolf > Preferences and scroll down to 'intelligentgolf igMemberApp'
Click on 'Pair Your Device'
In the next screen click on 'Enable and Show Me the Link/QR code'.
This will show you the screen where the QR code is displayed – it is this QR code you will take a photo of when pairing your devices.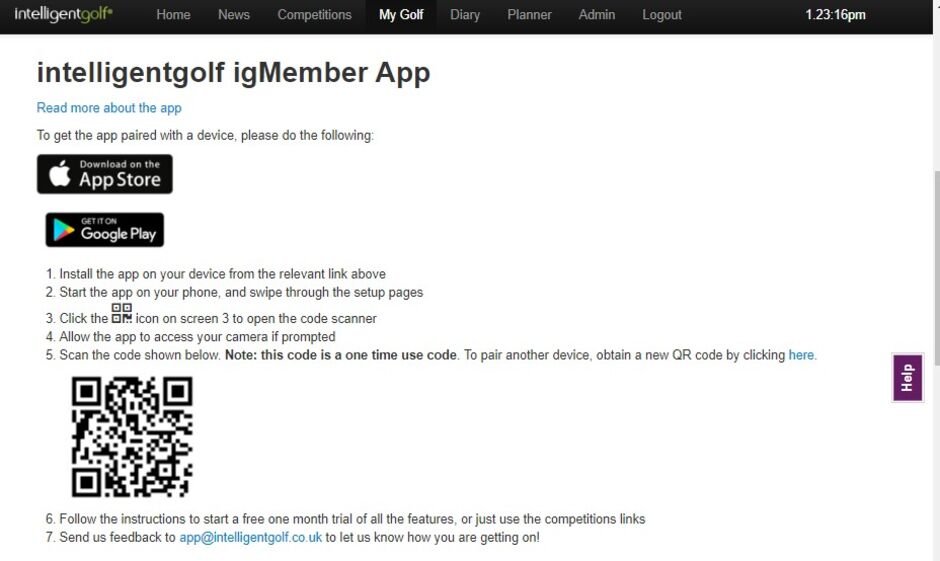 Step Three: Install the Member App and 'pair' your device
The igMember app should only be installed on one mobile device, i.e. smartphone or tablet. So, please choose the device that you most commonly use.
If you have an Apple phone go to the App Store and search for 'igMember' and install it.
If you have an Android phone go to Google Play and search for 'igMember' and install it.
Once you have installed the app, open it and swipe to the third screen shown below.
You then need to click on the QR code in the middle of the screen. This will turn your phone or tablet into camera mode.
Then go to the PC or laptop where you can see the QR code on the screen (Step Two above).
Make sure the QR code is shown within the square shown on your phone or tablet screen, hold it steady and you should hear a 'beep' – this means the pairing has taken place.
You will now be taken to the app home screen.
NOTE: You can either use Intelligent Golf on your laptop/PC OR smartphone/tablet. Whatever action you take on either device will be saved to your single IG account.